In-situ formation of one-dimensional coordination polymers in molecular junctions
Citación:
Nature Communications, 10(1) (2019); doi:10.1038/s41467-018-08025-9
Patrocinado por:
This work was partially supported the EC FP7-ITN MOLESCO grant (No. 606728). M.P. acknowledges funding by the EMPAPOSTDOCS-II programme which is financed by the European Unions Horizon 2020 research and innovation programme under the Marie Skłodowska-Curie grant agreement number 754364. R. R. F., V. G. S. and J. F. have also been funded by the Spanish Ministerio de Economía y Competitividad and Ministerio de Ciencia e Innovación (grants no. FIS2012-34858 and FIS2015-63918-R, respectively).
Id. Proyecto:
info:eu-repo/semantics/EC/FP7/606728
info:eu-repo/semantics/EC/H2020/754364
MINECO/FIS2012-34858
MICINN/FIS2015-63918-R
Files in this item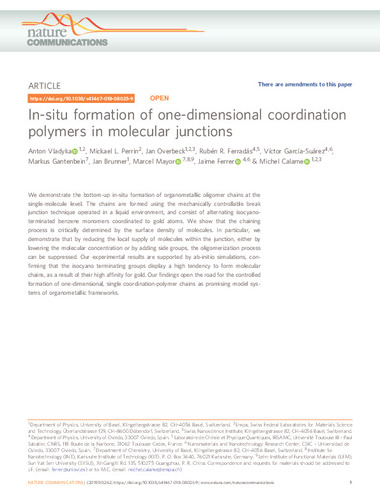 Compartir
Estadísticas de uso
Metadata