Presencia de una sucesión paleógena cobijada por el cabalgamiento de La Espina (límite entre las zonas Cantábrica y Asturoccidental-Leonesa). Implicaciones tectónicas
Other title:
Paleogene succession underlying the La Espina Thrust (boundary between the Cantabrian and West-asturianleonese zones). Tectonic implications
Editorial:
Sociedad Geológica de España
Citación:
Geogaceta, 64, p. 11-14 (2018)
Descripción física:
p. 11-14
Patrocinado por:
Este trabajo se ha financiado parcialmente por los proyectos FC-15-GRUPIN14- 044 y CI-MINECO-15-CGL2014-53388-P.
Id. Proyecto:
FC-15-GRUPIN14- 044
CI-MINECO-15-CGL2014-53388-P
Files in this item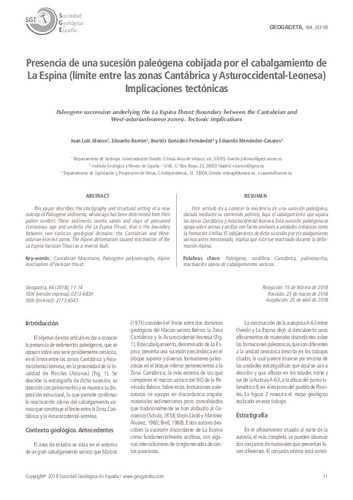 Compartir
Estadísticas de uso
Metadata