Characterization of Plasma-Derived Extracellular Vesicles Isolated by Different Methods: A Comparison Study
Citación:
Bioengineering, 6(8), p. 1-13 (2019); doi:10.3390/bioengineering6010008
Patrocinado por:
This work was supported by the Ministerio de Economía y Competitividad (MINECO, Spain), under the Grants CTQ2013-47396-R and MAT2017-84959-C2-1-R. This study was also financed by the Consejería de Economía y Empleo del Principado de Asturias (Plan de Ciencia, Tecnología e Innovación 2013-2017), under the Grant GRUPIN14-022. Support from the European Regional Development Fund (ERDF) is gratefully acknowledged. M.O.-R. was supported by a FICYT-Severo Ochoa pre-doctoral grant.
Id. Proyecto:
MINECO/CTQ2013-47396-R
MINECO/MAT2017-84959-C2-1-R
GRUPIN14-022
FICYT-Severo Ochoa
Files in this item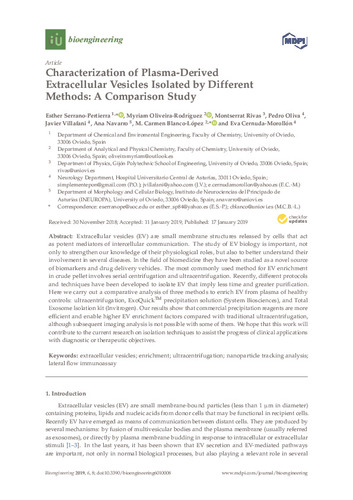 Compartir
Estadísticas de uso
Metadata