Iron metallurgy via concentrated solar energy
Citación:
Metals, 8(11), p. 873- (2018); doi:10.3390/met8110873
Descripción física:
p. 873-
Patrocinado por:
Financial support by the Access to Research Infrastructures activity in the 7th Framework Program of the EU (SFERA 2 Grant Agreement No. 312643) is gratefully acknowledged and the use of the facilities and its researchers/technology experts. This research was supported by the Spanish Ministry of Education, Culture, and Sports via an FPU (Formación del Profesorado Universitario) grant to Daniel Fernández González (FPU014/02436).
Id. Proyecto:
info:eu-repo/grantAgreement/EC/FP7/312643
FPU014/02436
Collections
Files in this item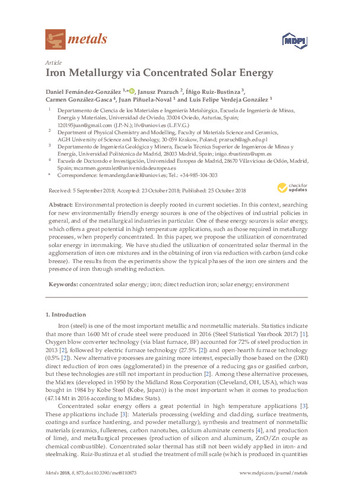 Compartir
Estadísticas de uso
Metadata