DNA barcodes of Antipode marine invertebrates in Bay of Biscay and Gulf of Lion ports suggest new biofouling challenges
Citación:
Scientific Reports, 8(1), p. 16214- (2018); doi:10.1038/s41598-018-34447-y
Descripción física:
p. 16214-
Patrocinado por:
Tis study has been funded by the Spanish Ministry of Economy and Competitiveness, Grant CGL-2016-79209-R and the Principality of Asturias (Spain), Grant GRUPIN-2014-093. This is a contribution from the Marine Observatory of Asturias (OMA). AA holds a Juan de la Cierva-reincorporation fellowship with reference IJCI2016-27522 from Ministry of Economy, Industry and Competitiveness. LC holds a PCTI Grant from the Asturias Regional Government, referenced BP14–145.
Id. Proyecto:
MINECO/CGL-2016-79209-R
GRUPIN-2014-093
BP14–145
MINECO/IJCI2016-27522
Files in this item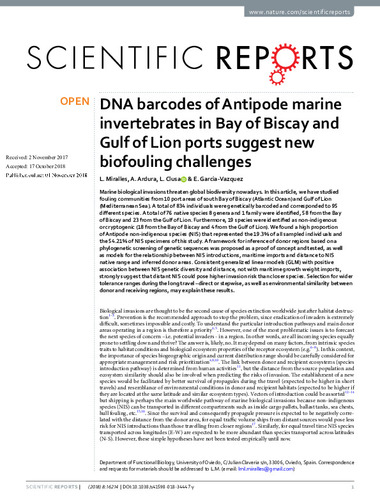 Compartir
Estadísticas de uso
Metadata