Glycosaminoglycans are differentially involved in bacterial binding to healthy and cystic fibrosis lung cells
Citación:
Journal of Cystic Fribosis, 18(3), p. e19-e25 (2018); doi:10.1016/j.jcf.2018.10.017
Patrocinado por:
This paper was supported by a grant from Sociedad Madrileña de Neumología y Cirugía Torácica (XV Edición Premios Neumomadrid). Carla Martin was funded by Allergan SA with the "Cátedra Allergan de Innovación en superficieocular" (CAT-15-ALLERGAN) and Beatriz García was fundedby the Government of the Principado de Asturias (Spain) and the consolidated research groups grant FC-15-GRUPIN14-141. The Instituto Universitario Fernández-Vega is supported in partby the Fundación de Investigación Oftalmológica through the Fundación Cristina Masaveu Peterson, Spain.
Files in this item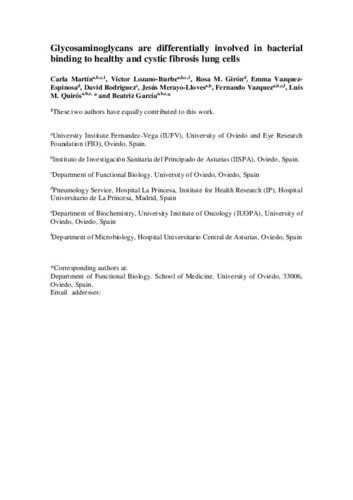 Compartir
Estadísticas de uso
Metadata