Trapping para-quinone methide intermediates with ferrocene: Synthesis and preliminary biological evaluation of new phenol-ferrocene conjugates
Citación:
Molecules, 23(6), p. 1335- (2018); doi:10.3390/molecules23061335
Patrocinado por:
Financial support from the Ministerio de Economía y Competitividad (MINECO, grants CTQ2013-41511-P and CTQ2015-63567-R), Agencia Estatal de Investigación (AEI) and Fondo Europeo de Desarrollo Regional (FEDER) (Grants CTQ2016-76840-R and CTQ2016-75986-P), and Principado de Asturias (grants GRUPIN14-013 and GRUPIN14-006) is gratefully acknowledged. E.L. thanks the Principado de Asturias for a predoctoral grant (Severo Ochoa Program). We also thank J.M. González for interesting discussions.
Files in this item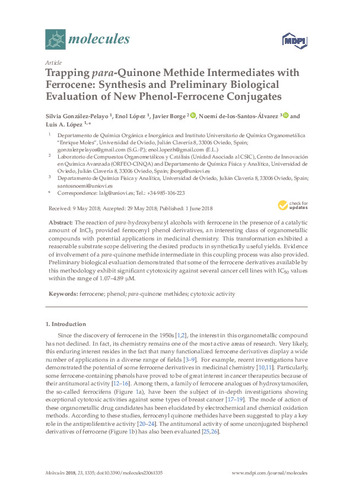 Métricas
Compartir
Estadísticas de uso
Metadata