The dark side of glucose transporters in prostate cancer: Are they a new feature to characterize carcinomas?
Citación:
International Journal Of Cancer, 142(12), p. 2414-2424 (2018); doi:10.1002/ijc.31165
Patrocinado por:
This work was supported by Ministerio de Economía y Competitividad, co-funded by FEDER (MINECO-17-BFU2016–79139-R), and sponsorshipfrom Ministerio de Educación, Cultura y Deporte (AP2012–4924; to P.G.-M.). The authors thank Marisa Lopez-Cruzan (UT Health Science Center,Texas, EEUU) for checking English grammar.
Id. Proyecto:
MINECO-17-BFU2016–79139-R
MEC/AP2012–4924
Files in this item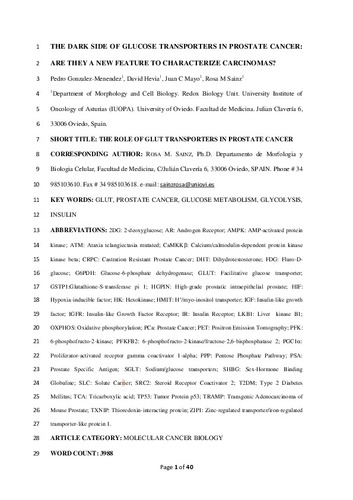 Compartir
Estadísticas de uso
Metadata