Stereoselective enzymatic reduction of 1,4-diaryl-1,4-diones to the corresponding diols employing alcohol dehydrogenases
Citación:
Catalysts, 8(4), p. 150- (2018); doi:10.3390/catal8040150
Patrocinado por:
Financial support from the Spanish ministry of Economy and Competitiveness (MINECO, Project CTQ2016-75752-R) is gratefully acknowledged. G.d.G. (Ramón y Cajal Program) and Á.M.-I. (FPI predoctoral fellowship) thank minECO for personal funding.
Id. Proyecto:
MINECO/ CTQ2016-75752-R
Publicación parcialmente financiada con cargo al proyecto GRUPIN IDI/2018/000181
Files in this item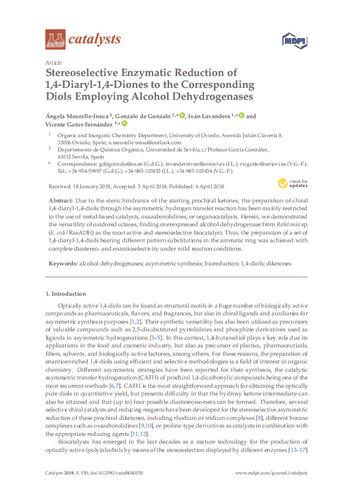 Compartir
Estadísticas de uso
Metadata