Green synthesis of fluorescent carbon dots from spices for in vitro imaging and tumour cell growth inhibition
Citación:
Beilstein Journal of Nanotechnology, 9(1), p. 530-544 (2018); doi:10.3762/bjnano.9.51
Patrocinado por:
This work was supported by the P.O Norte CCDR-N/ON.2 programme under grants "LOC4BIO" and "INTEGRATION" as well as by N2020 programme under grants "CANCER" and "Nanotechnology-based functional solutions". Nagamalai Vasimalai acknowledges the financial support from the Marie Curie COFUND Programme "NanoTRAINforGrowth". Vania VilasBoas thanks Fundacao para a Ciencia e Tecnologia (FCT) for her PhD grant SFRH/BD/82556/2011.
Id. Proyecto:
Marie Curie COFUND Programme
Files in this item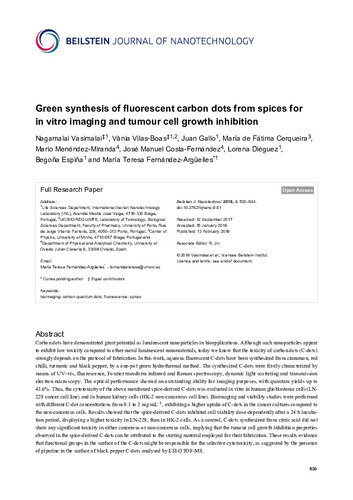 Compartir
Estadísticas de uso
Metadata