The influence of texture on the reversible elastocaloric effect of a polycrystalline Ni50Mn32In16Cr2 alloy
Citación:
Applied Physics Letters, 112(16), p. 164101- (2018); doi:10.1063/1.5018732
Patrocinado por:
The authors would like to thank Beatriz Adriana Rivera-Escoto for technical support and Laboratorio Nacional de Investigaciones en Nanociencias y Nanotecnologia LINAN-IPICYT for the availability of their lab facilities. This work was supported by CONACYT (Mexico), Project Nos. CB-2010-01-157541 and SEP-CB-2015-01-257120, Asturias Government, Spain (FC-15-GRUPIN14-037 245), and MAT2014-56116-C4-3-4-R (MINECO, Spain).
Id. Proyecto:
FC-15-GRUPIN14-037 245
MINECO/MAT2014-56116-C4-3-4-R
Files in this item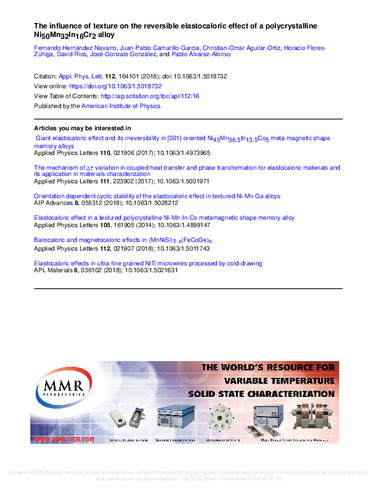 Compartir
Estadísticas de uso
Metadata