Observer-based Transient Frequency Drift Compensation in AC Microgrids
Citación:
IEEE Transactions on Smart Grid, 10(2), p. 2015 - 2025 (2017); doi:10.1109/TSG.2017.2786085
Patrocinado por:
This work was supported in part by the Predoctoral Grants Program Severo Ochoa˙I for the Formation in Research and University Teaching of Principado de Asturias PCTI-FICYT under Grant ID BP13-138, Grant BP14-135, and Grant BP16- 133, in part by the Research, Technological Development and Innovation Program Oriented to the Society Challenges of the Spanish Ministry of Economy and Competitiveness under Grant ENE2013-44245-R and Grant ENE2016-77919-R, and in part by the European Union through ERFD Structural Funds (FEDER). Paper no. TSG-00749-2017.
Id. Proyecto:
PCTI-FICYT/BP13-138
PCTI-FICYT/BP14-135
PCTI-FICYT/BP16-133
ENE2013-44245-R
ENE2016-77919-R
Collections
Files in this item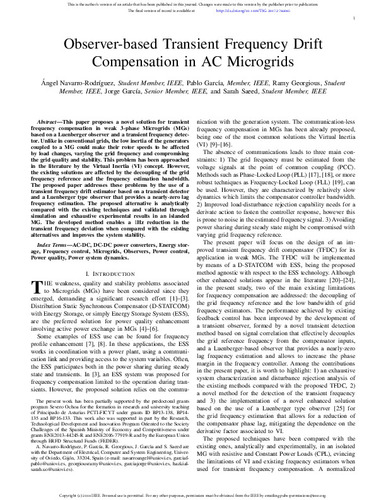 Compartir
Estadísticas de uso
Metadata