Solution, Solid-State Two Step Synthesis and Optical Properties of ZnO and SnO2 Nanoparticles and Their Nanocomposites with SiO2
Citación:
Journal of Cluster Science, 29(2), p. 251-266 (2018); doi:10.1007/s10876-017-1324-8
Patrocinado por:
C.D. is grateful to Fondecyt (Project 1160241) for the funding. A.P.S. is grateful to FICYT (Projects SV-PA-13-ECOEMP-83 and FC-15-GRUPIN14-106), Universidad de Oviedo (Project UNOV-13-EMERG-GIJON-08) and the MINECO (Project CTQ2014-56345-P) for the funding. A.P.S. is also grateful to the COST action Smart Inorganic Polymers (SIPs-CM1302-http://www.sips-cost.org/home/index.html), and the Juan de la Cierva and Ramon y Cajal programs.
Id. Proyecto:
FICYT/SV-PA-13-ECOEMP-83
FICYT/FC-15-GRUPIN14-106
UNOV-13-EMERG-GIJON-08
MINECO/CTQ2014-56345-P
Files in this item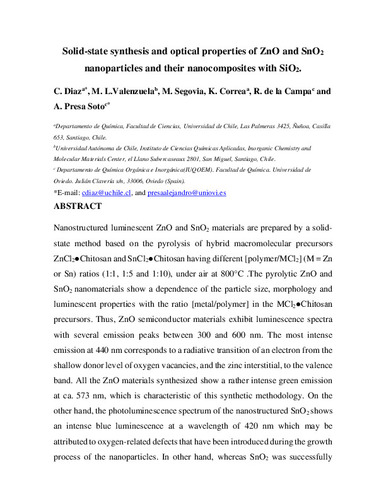 Compartir
Estadísticas de uso
Metadata