Planck intermediate results: LI. Features in the cosmic microwave background temperature power spectrum and shifts in cosmological parameters
Citación:
Astronomy and Astrophysics, 607(A95), (2017); doi:10.1051/0004-6361/201629504
Patrocinado por:
The Planck Collaboration acknowledges the support of: ESA; CNES, and CNRS/INSU-IN2P3-INP (France); ASI, CNR, and INAF (Italy); NASA and DoE (USA); STFC and UKSA (UK); CSIC, MINECO, JA, and RES (Spain); Tekes, AoF, and CSC (Finland); DLR and MPG (Germany); CSA (Canada); DTU Space (Denmark); SER/SSO (Switzerland); RCN (Norway); SFI (Ireland); FCT/MCTES (Portugal); ERC and PRACE (EU). A description of the Planck Collaboration and a list of its members, indicating which technical or scientific activities they have been involved in, can be found at http://www.cosmos.esa.int/web/planck/planck-collaboration. Part of the analysis for this paper was run on computers operated by WestGrid (www.westgrid.ca) and Compute Canada (www.computecanada.ca). This work was also supported by the Labex ILP (reference ANR-10-LABX-63). We thank all of the users of Cosmology@Home for donating computing time in support of this work, and in particular the top contributors, MaDcCow (Thomas Wooton), 25000ghz (Roberto Piantoni), Rally1965, Mumps, UofS-Computer-Science, and Bryan, as well as the top teams, BOINC.Italy and SETI.USA.
Id. Proyecto:
MINECO
CSIC
Files in this item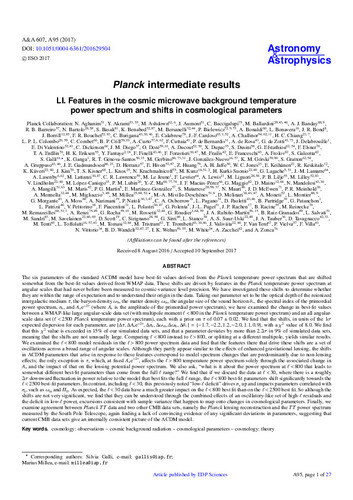 Compartir
Estadísticas de uso
Metadata