Trabectedin and Campthotecin Synergistically Eliminate Cancer Stem Cells in Cell-of-Origin Sarcoma Models
Citación:
Neoplasia (United States), 19(6), p. 460-470 (2017); doi:10.1016/j.neo.2017.03.004
Patrocinado por:
This work was supported by the Agencia Estatal de Investigación (AEI) [MINECO/Fondo Europeo de Desarrollo Regional (FEDER) (SAF-2013-42946-R and SAF-2016-75286-R to R.R.), ISC III/FEDER (Miguel Servet Program CP11/00024 and CPII16/00049 to R.R. and PI13/00259 and PI16/00280 to J.M.G-P) and Consorcio CIBERONC CB16/12/00390 to R.R and J.M.G-P)] and the Plan de Ciencia Tecnología e Innovación del Principado de Asturias (GRUPIN14–003) to R.R and J.M.G-P.
Id. Proyecto:
MINECO-FEDER/SAF-2013-42946-R
MINECO-FEDER/SAF-2016-75286-R
Gobierno del Principado de Asturias/GRUPIN14–003
Files in this item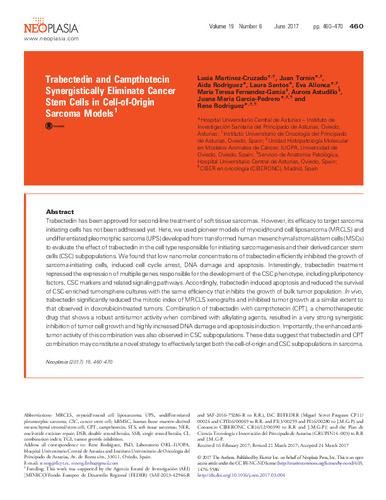 Compartir
Estadísticas de uso
Metadata