Photocatalytic degradation of 2-(4-methylphenoxy)ethanol over TiO2 spheres
Citación:
Journal of Hazardous Materials, 332, p. 59-69 (2017); doi:10.1016/j.jhazmat.2017.02.055
Patrocinado por:
We gratefully acknowledge financial support from the Spanish MINECO (MAT2016-78155-C2-1-R, MAT2013-40950-R, CTQ2011-29272-C04-02), and the Government of the Principality of Asturias (GRUPIN14-060; GRUPIN14-078; and "Severo Ochoa" PhD grantBP-14-029 to M.I.) and FEDER. South Ural State University acknowledges financial support from Ministry of Education and Science of the Russian Federation (grant No 16.2674.2014/K). IK is grateful for the support by Act 211 Government of the Russian Federation, contract № 02.A03.21.0011. We thank Cogersa for carrying out the toxicity measurements.
Id. Proyecto:
MINECO/MAT2016-78155-C2-1-R
MINECO/MAT2013-40950-R
MINECO/CTQ2011-29272-C04-02
GRUPIN14-060
GRUPIN14-078
BP-14-029
Files in this item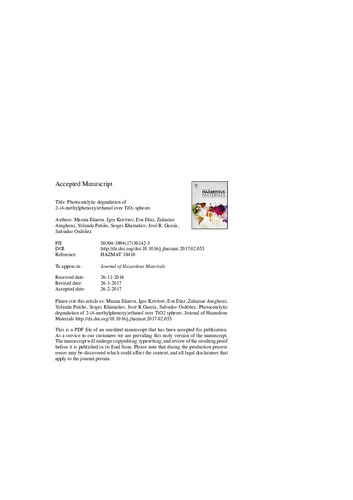 Compartir
Estadísticas de uso
Metadata