Synthesis of Functionalized Cyclopentene Derivatives from Vinyldiazo Compounds and Vinylazides through Sequential Copper-Promoted = 3+2 Cycloaddition/Azide Rearrangement
Citación:
Angewandte Chemie - International Edition, 56(18), p. 5121-5124 (2017); doi:10.1002/anie.201701572
Patrocinado por:
Financial support from Ministerio de Economia y Competitividad (MINECO, grant CTQ2013-41511-P), Agencia Estatal de Investigación (AEI) and Fondo Europeo de Desarrollo Regional (FEDER) (grant CTQ2016-76840-R) and Principado de Asturias (grant GRUPIN14-013) is gratefully acknowledged. E.L. thanks the Principado de Asturias for a predoctoral grant (Severo Ochoa Program). We thank Prof. J. M. Gonzalez for interesting discussions. We are also grateful to Dr. F. J. Gonzalez and Dr. J. Borge for their assistance with DFT calculations and X-ray data, respectively.
Id. Proyecto:
MINECO/CTQ2013-41511-P
FEDER/CTQ2016-76840-R
Principado de Asturias/GRUPIN14-013
Files in this item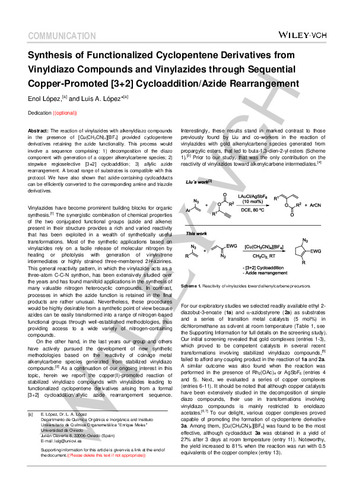 Compartir
Estadísticas de uso
Metadata