Spatial assessment of wolf-dog hybridization in a single breeding period
Citación:
Scientific Reports, 7, p. 42475- (2017); doi:10.1038/srep42475
Patrocinado por:
This work was partially supported by Portuguese funds through the Foundation for Science and Technology (FCT; project PTDC/BIA-EVF/2460/2014 to R.G.). R.G. and J.V.L.B were supported by research contracts from FCT and the Spanish Ministry of Economy and Competitiveness (IF/00564/2012 and JCI-2012-13066, respectively). This is scientific paper no. 14 of the Iberian Wolf Research Team (IWRT).
Id. Proyecto:
MINECO/IF/00564/2012
MINECO/JCI-2012-13066
Files in this item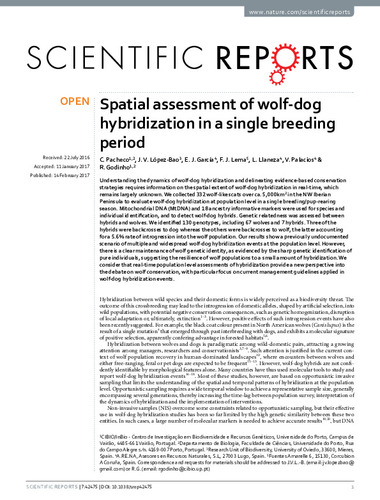 Compartir
Estadísticas de uso
Metadata