Kaolin particle film application lowers oxidative damage and DNA methylation on grapevine (Vitis vinifera L.)
Citación:
Environmental and Experimental Botany, 139, p. 39-47 (2017); doi:10.1016/j.envexpbot.2017.04.002
Descripción física:
p. 39-47
Patrocinado por:
Fundação Maria Rosa" to our team. The postdoctoral fellowships awarded to L.-T. Dinis (SFRH/BPD/84676/2012), A. Luzio (BPD/INTERACT/VITALITYWINE/184/2016) and G. Pinto (SFRH/BPD/101669/2014; CESAM (UID/AMB/50017 − POCI-01-0145-FEDER-007638)) are appreciated. We would also like to thank "Quinta do Vallado" for the collaboration and efforts in making the vineyard's facilities available for the research and particularly to engineers António Pinto and Daniel Gomes and BASF for collaboration.
Id. Proyecto:
SFRH/BPD/84676/2012
BPD/INTERACT/VITALITYWINE/184/2016
SFRH/BPD/101669/2014
CESAM (UID/AMB/50017 - POCI-01-0145-FEDER-007638)
Files in this item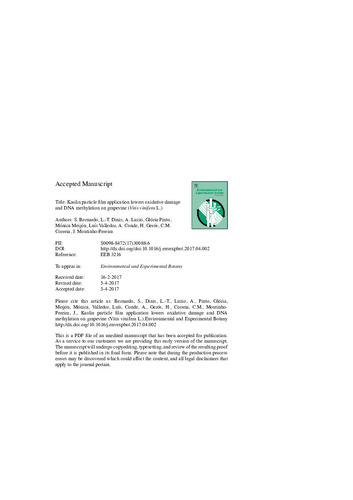 Compartir
Estadísticas de uso
Metadata