Asymmetric Biocatalytic Synthesis of Fluorinated Pyridines through Transesterification or Transamination: Computational Insights into the Reactivity of Transaminases
Citación:
Advanced Synthesis and Catalysis, 359(2), p. 279-291 (2017); doi:10.1002/adsc.201600835
Patrocinado por:
Financial support of this work by the Spanish Ministerio de Economia y Competitividad (MINECO) (CTQ-2013-44153-P project) and the Asturian Regional Government (FC-15-GRUPIN14-002) is gratefully acknowledged. E. B. thanks MINECO for a postdoctoral contract. M.L.-I. and D.G.-M. thank Fundacion para el Fomento en Asturias de la Investigacion Cientifica Aplicada y la Tecnologia (FICYT), while M.R.-M. thanks the Spanish Ministerio de Ciencia e Innovacion (MICINN) for predoctoral fellowships.
Id. Proyecto:
MINECO/CTQ-2013-44153-P
FC-15-GRUPIN14-002
Files in this item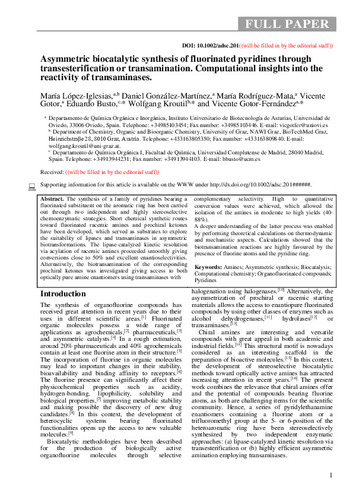 Compartir
Estadísticas de uso
Metadata