Phospho-kinase profile of colorectal tumors guides in the selection of multi-kinase inhibitors
Citación:
Oncotarget, 6(31), p. 31272-31283 (2015); doi:10.18632/oncotarget.5211
Patrocinado por:
Ministry of Economy and Competitiveness of Spain (BFU2012-39151 and RD12/0036/0003 to AP), and the AECC (to AP). ISCIII, Fondo de Investigación Sanitaria (PI13/01444), CRIS Cancer Foundation, Diputación Albacete and ACEPAIN (to AO). JCM is a recipient of a Miguel Servet fellowship program. Our translational research laboratory was initially supported by AECC. Tumor bank of the Albacete University Hospital. Animal facility of the Albacete University Hospital.
Id. Proyecto:
MINECO/BFU2012-39151
MINECO/RD12/0036/0003
AECC/PI13/01444
Files in this item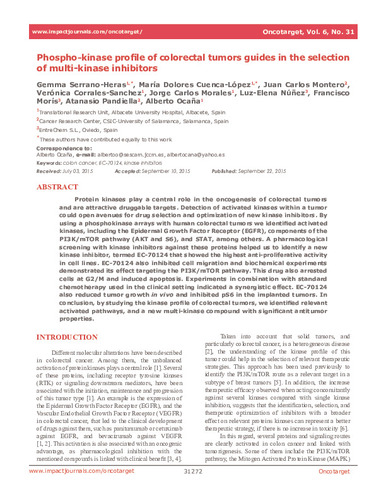 Compartir
Estadísticas de uso
Metadata