Age-associated hydroxymethylation in human bone-marrow mesenchymal stem cells
Citación:
Journal of Translational Medicine, 14, p. 207- (2016); doi:10.1186/s12967-016-0966-x
Patrocinado por:
This work has been financially supported by the Plan Nacional de I + D + I 2008–2011/2013–2016/FEDER (PI11/01728 to A.F.F.; PI12/01080 and PI15/00892 to M.F.F.; PI 12/0615 to J.A.R.; PI05/2217 and PI08/0029 to J.G-C); the ISCIII-Subdirección General de Evaluación y Fomento de la Investigación (Miguel Servet contract: CP11/00131 to A.F.F.); IUOPA (to G.F.B. and M.S); Fundacion Cientifica de la AECC (to R.G.U.); Fundación Ramón Areces (to M.F.F); and FICYT (to E.G.T., M.G.G and A.C.);the Madrid Regional Government (S-BIO-02042006 and S2010/BMD-2420 to J.G-C) and the Asturias Regional Government (GRUPIN14-052 to M.F.F.). The IUOPA is supported by the Obra Social Cajastur, Spain.
Id. Proyecto:
PI11/01728
PI12/01080
PI15/00892
Miguel Servet contract/CP11/00131
GRUPIN14-052
Files in this item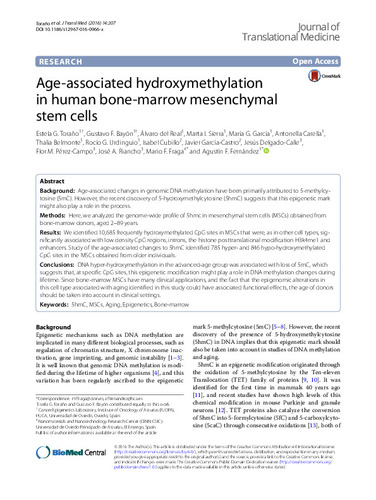 Compartir
Estadísticas de uso
Metadata