The Impact of External Factors on the Epigenome: In Utero and over Lifetime
Citación:
BioMed Research International, 2016, 2568635- (2016); doi:10.1155/2016/2568635
Patrocinado por:
The authors thank Ronnie Lendrum for editorial assistance. Estela G. Toraño and María G. García received support from FICYT (BP11138 and BP13103). Juan Luis Fernández-Morera is supported by Sociedad Española de Diabetes. Agustín F. Fernández is sponsored by ISCIII-Subdirección General de Evaluación y Fomento de la Investigación (CP11/00131), and the Plan Nacional de I+D+I 2008/FEDER (PI11/01728). IUOPA is supported by the Obra Social Cajastur, Spain.
Id. Proyecto:
FICYT BP11138
FICYT BP13103
CP11/00131
FEDER PI11/01728
Files in this item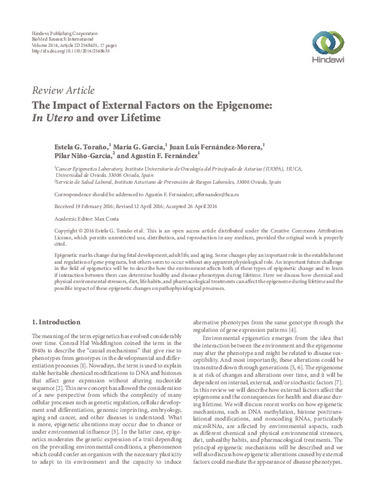 Compartir
Estadísticas de uso
Metadata