Lipase-catalyzed dynamic kinetic resolution of dimethyl (1,3-dihydro-2H-isoindol-1-yl)phosphonate
Citación:
Tetrahedron, 72(46), p. 7311–7316 (2016); doi:10.1016/j.tet.2016.02.015
Patrocinado por:
Financial support to this work was provided by Ministerio de Economía y Competitividad-FEDER (grants CTQ2013-44153-P, and CTQ2013-40855-R), Gobierno de Aragon-Fondo Social Europeo (research group E40) and Gobierno del Principado de Asturias (FC15-GRUPIN14-002). M.L.-I. thanks FICYT for a predoctoral fellowship. A.A. thanks the Spanish Consejo Superior de Investigaciones Científicas for a JAE predoctoral fellowship. The authors thank Novo Nordisk Co. for the generous gift of CAL-B (Novozyme 435).
Id. Proyecto:
MINECO/FEDER/CTQ2013-44153-P
MINECO/FEDER/CTQ2013-40855-R
FC15-GRUPIN14-002
Files in this item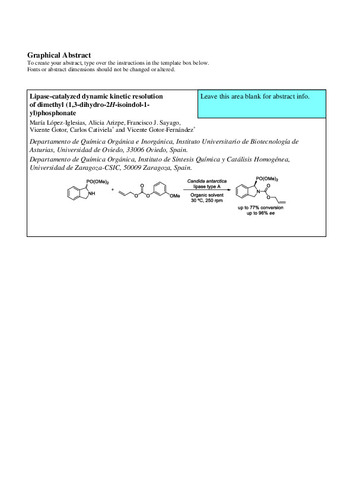 Compartir
Estadísticas de uso
Metadata