Crystal structure of 5-(adamantan-1-yl)-3-= (4-chloroanilino)methyl-2,3-dihydro-1,3,4-oxadiazole-2-thione, C19H22ClN3OS
Citación:
Zeitschrift fur Kristallographie - New Crystal Structures, 231(1), p. 301-303 (2016); doi:10.1515/ncrs-2015-0151
Patrocinado por:
The authors would like to extend their sincere appreciation to the Deanship of Scientific Research at King Saud University for funding this work through the Research Group Project No. PRG-1436–23. We also acknowledge the financial support from Spanish Ministerio de Economía y Competitividad (MINECO-13-MAT2013–40950-R, FPI grant BES-2011–046948 to MSM-A).
Files in this item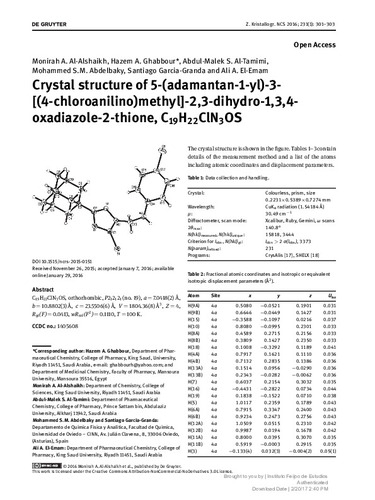 Métricas
Compartir
Estadísticas de uso
Metadata