Magnetostatic interaction in soft magnetic bilayer ribbons unambiguously identified by first-order reversal curve analysis
Citación:
Applied Physics Letters, 107(13), p. 132403- (2015); doi:10.1063/1.4932066
Descripción física:
p. 132403-
Patrocinado por:
This work was supported in part by the Spanish Ministry of Economy and Competitiveness under Project Nos.MAT2012-33405 and MAT2011-27573-C04-02, the Principality of Asturias under Project No. FC-15-GRUPIN14-037, IUTA/Gijon Council under Grant Nos. SV-14-GIJON-1-10, Slovak APVV-0492-11, Cex CFNT-MVEP,VEGA 2/0192/13, and PHYSNET ITMS 26110230097.
Id. Proyecto:
Spanish Ministry of Economy and Competitiveness /MAT2012-33405
Spanish Ministry of Economy and Competitiveness /MAT2011-27573-C04-02]
FC-15-GRUPIN14-037
IUTA/Gijon Council/SV-14-GIJON-1-10
Files in this item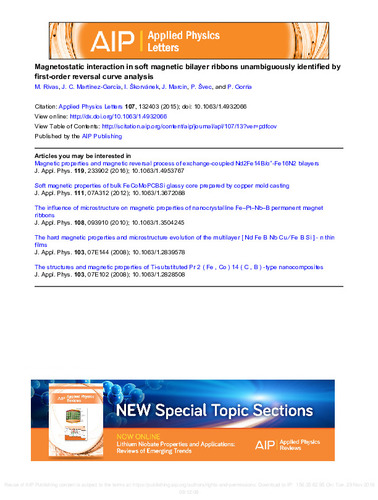 Compartir
Estadísticas de uso
Metadata