Epigenetic mechanisms regulate MHC and antigen processing molecules in human embryonic and induced pluripotent stem cells
Citación:
PLoS ONE, 5(4)(2010); doi:10.1371/journal.pone.0010192
Patrocinado por:
We thank Cristina B. Mendoza for excellent technical assistance and Dr.Peter Andrews for providing us reagents. Conceived and designed the experiments: BS MFF CLL. Performed the experiments: BS VC STS. Analyzed the data: BS RMR MABG CLL. Contributed reagents/materials/analysis tools: RMR FO JO JC HM. Wrote the paper: BS HM MFF CLL.
Files in this item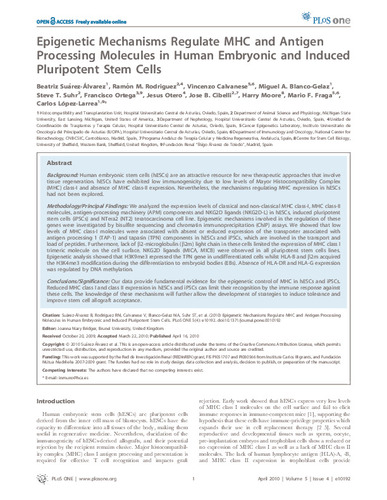 Compartir
Estadísticas de uso
Metadata