Lactonization reactions through hydrolase-catalyzed peracid formation. Use of lipases for chemoenzymatic Baeyer-Villiger oxidations of cyclobutanones
Citación:
Journal of Molecular Catalysis B-Enzymatic, 114, p. 31-36 (2015); doi:10.1016/j.molcatb.2014.09.002
Descripción física:
p. 31-36
Patrocinado por:
We thank Novozymes for the generous gift of Rhizomucor miehei lipase (RML) and Candida antarctica lipase type B (CAL-B). Financial support from the Spanish Ministerio de Ciencia e Innovacion (MICINN-12-CTQ2011-24237 and CTQ-2013-44153-P), Principado de Asturias (SV-PA-13-ECOEMP-42) and the University of Oviedo (UNOV-13-EMERG-01) are also gratefully acknowledged.
Id. Proyecto:
MICINN-12-CTQ2011-24237
CTQ-2013-44153-P
SV-PA-13-ECOEMP-42
UNOV-13-EMERG-01
Files in this item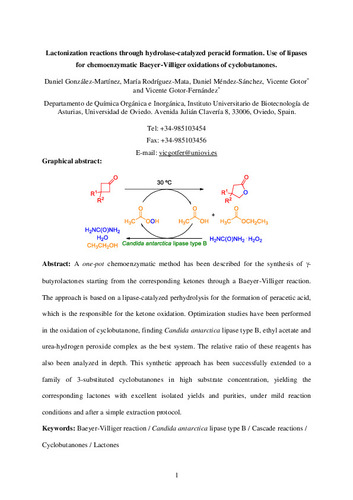 Compartir
Estadísticas de uso
Metadata