Chemoenzymatic Asymmetric Synthesis of 1,4-Benzoxazine Derivatives: Application in the Synthesis of a Levofloxacin Precursor
Citación:
Journal of Organic Chemistry, 80(8), p. 3815-3824 (2015); doi:10.1021/acs.joc.5b00056
Patrocinado por:
Financial support of this work by the Spanish Ministerio de Ciencia e Innovación (MICINN) through the CTQ-2011-24237 and CTQ-2013-44153-P projects is grateful acknowledged. M. L.-I. thanks FICYT for a predoctoral fellowship.
Id. Proyecto:
MICINN/CTQ-2011-24237
MICINN/CTQ-2013-44153-P
Files in this item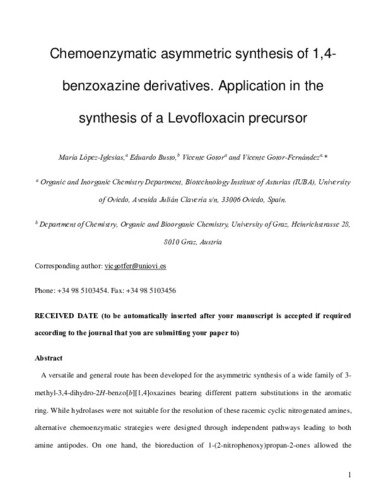 Compartir
Estadísticas de uso
Metadata