Laccase/2,2,6,6-Tetramethylpiperidinoxyl Radical (TEMPO): An Efficient Catalytic System for Selective Oxidations of Primary Hydroxy and Amino Groups in Aqueous and Biphasic Media
Citación:
Advanced Synthesis & Catalysis, 356(10), p. 2321-2329 (2014); doi:10.1002/adsc.201400260
Patrocinado por:
This research is part of BIONEXGEN project (grant agreement 266025) sponsored by the European Union inside the 7th Framework Programme (FP7 2007-2013). Financial support from MICINN (Project MICINN-12-CTQ2011-24237)is also gratefully acknowledged. We thank CLEA Technologies and Lentikats for providing some of the screened oxidases. L. M.-M. thanks the Principado de Asturias for her predoctoral fellowship Severo Ochoa. I.L. thanks the Spanish MICINN for personal funding (Ramón y Cajal Program).
Id. Proyecto:
info:eu-repo/grantAgreement/EC/FP7/266025
MICINN/12-CTQ2011-24237
Files in this item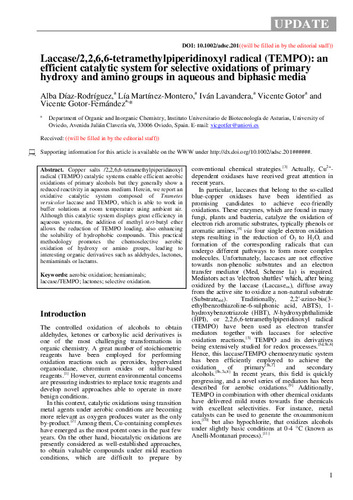 Compartir
Estadísticas de uso
Metadata