Effects of midlatitude westerlies on the paleoproductivity at the Agulhas Bank slope during the penultimate glacial cycle: Evidence from coccolith Sr/Ca ratios
Citación:
Paleoceanography, 29(7), p. 697-714 (2014); doi:10.1002/2013PA002589
Patrocinado por:
This investigation was funded by MICINN CGL2009-10806 (PROCARSO) and ERC 240222-PACE. L.M.M. who initiated this study with a master scholarship provided by Fundación Carolina. G.M. acknowledges financial support by the Universitat Autònoma de Barcelona (grant PS-688-01/08). R.Z. acknowledges the support of the European Community's Seventh Framework Programme FP7/2007-2013-Marie-Curie ITN, under Grant Agreement 238512, GATEWAYS project. We thank Frank Peeters for the data on foraminiferal assemblages from core GeoB-3603-2 and Andrea Burke for her useful comments on sea ice interpretations. We thank Editor Christopher Charles and an anonymous reviewer for their useful comments to improve the manuscript. Geochemical data will be available in the World Data Center for Paleoclimatology of the NOAA.
Files in this item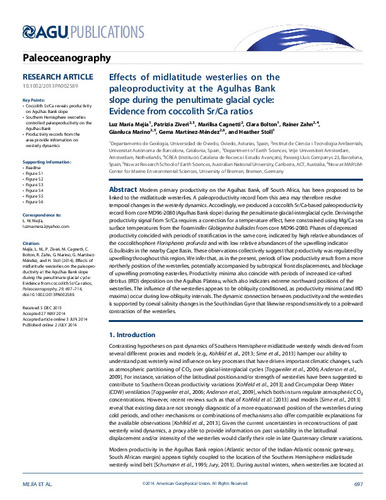 Métricas
Compartir
Estadísticas de uso
Metadata