Testing Measurement Invariance of the Schizotypal Personality Questionnaire-Brief Scores across Spanish and Swiss Adolescents
Citación:
PLoS ONE, 8(12), p. Art e82041- (2013); doi:10.1371/journal.pone.0082041
Patrocinado por:
This research was funded by the Spanish Ministry of Science and Innovation (MICINN), by the Instituto Carlos III, Centro de Investigación Biomédica en Red de Salud Mental (Center for Biomedical Research in the Mental Health Network, CIBERSAM). Project references: PSI 2011-28638, and PSI 2011-23818. This research was supported by research grants from the Swiss National Science Foundation (100014-135311/1) to MD and by the National Center of Competence in Research (NCCR) ''Synapsy-The Synaptic Bases of Mental Diseases'' (SNF, Grant number: 51AU40_125759) to SE, as well as from the Gertrude Von Meissner Foundation (ME 7871) to SE and MD. The funders had no role in study design, data collection and analysis, decision to publish, or preparation of the manuscript.
Files in this item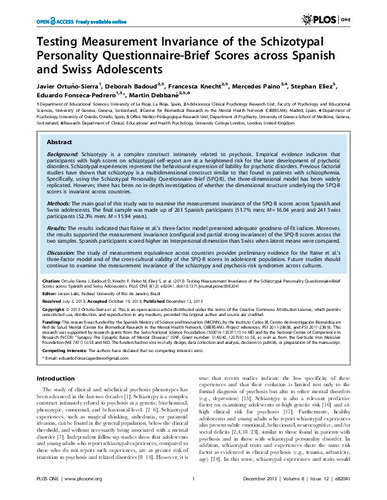 Compartir
Estadísticas de uso
Metadata