Expression of the endogenous and heterologous clavulanic acid cluster in Streptomyces flavogriseus: why a silent cluster is sleeping
Citación:
Applied Microbiology and Biotechnology, 97(21), p. 9451–9463 (2013); doi:10.1007/s00253-013-5148-7
Descripción física:
p. 1-13
Identificador local:
20130969
Patrocinado por:
This work was supported by grants BIO2009-09820 and LE046A11-2 from the Spanish Ministry of Economy and Competitivity and the Junta de Castilla y León, respectively. R. Álvarez-Álvarez and Y. Martínez-Burgo received PFU fellowships from the Spanish Ministry of Education, Culture and Sports. We appreciate the collaboration of Dr. T. López-García in the design of oligonucleotides and RT-qPCR experiments and the reception of plasmid pFL1272 from Dr. F. Lombo.
Id. Proyecto:
MINECO/BIO2009-09820
MINECO/LE046A11-2
Files in this item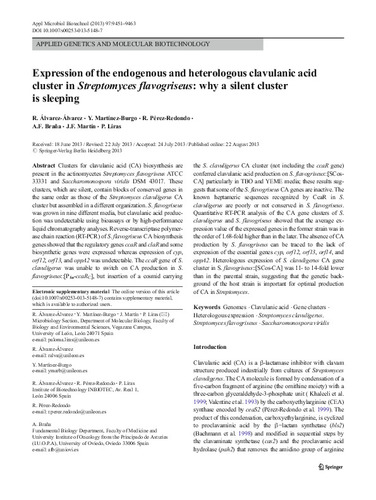 Compartir
Estadísticas de uso
Metadata