Vital effects in coccolith calcite: Cenozoic climate-pCO2 drove the diversity of carbon acquisition strategies in coccolithophores?
Subject:
PETM
Plio-Pleistocene
Coccolithophores
Productivity
Stable isotopes
Vital effects
Citación:
Paleoceanography, 27(4), (2012); doi:10.1029/2012PA002339
Patrocinado por:
All authors acknowledge European Research Council grant UE-09-ERC-2009-STG-240222-PACE, awarded to HMS. HMS also acknowledges funding fromN ational Science Foundation grant EAR-0628336.
Id. Proyecto:
ERC/UE-09-ERC-2009-STG-240222-PACE
Files in this item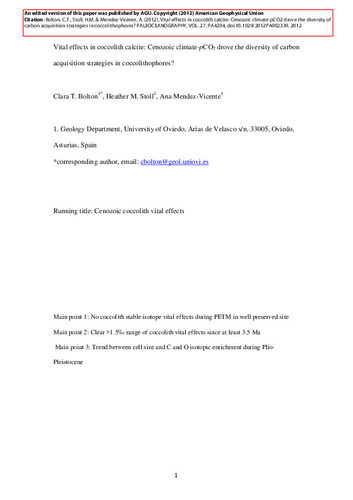 Compartir
Estadísticas de uso
Metadata