Radiologic Evaluation of Bone Loss at Implants with Biocide Coated Titanium Abutments: A Study in the Dog
Citación:
PLoS ONE, 7(12), p. e52861-e52861 (2012); doi:10.1371/journal.pone.0052861
Descripción física:
p. e52861-e52861
Identificador local:
20121717
Patrocinado por:
This work was supported by the Spanish Ministry of Science and Innovation under the project MAT2009-14542-C02-01 and Nanoker Research SL. BC thanks the Consejo Superior de Investigaciones Científicas JAE-Doc Program for a postdoctoral contract. The funders had no role in study design, data collection and analysis, decision to publish, or preparation of the manuscript.
Files in this item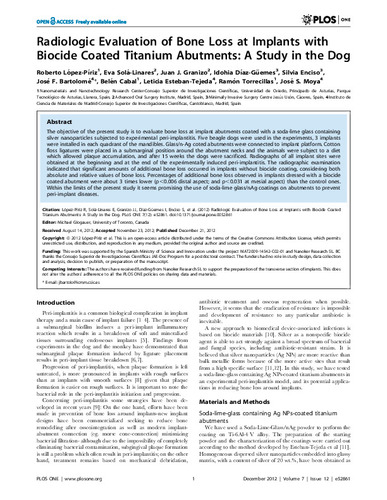 Compartir
Estadísticas de uso
Metadata