Detection/estimation of the modulus of a vector. Application to point-source detection in polarization data
Citación:
Monthly Notices of the Royal Astronomical Society, 395(2), p. 649-656 (2009); doi:10.1111/j.1365-2966.2009.14549.x
Descripción física:
p. 649-656
Identificador local:
20090602
Patrocinado por:
The authors acknowledge partial financial support from the Spanish Ministry of Education (MEC) under project ESP2004-07067-C03- 01 and from the joint CNR-CSIC research project 2006-IT-0037. JLS acknowledges partial financial support by the Spanish MEC. MLC acknowledges the Spanish MEC for a postdoctoral fellowship.
Id. Proyecto:
MEC/ESP2004-07067-C03- 01
CNR-CSIC/2006-IT-0037
Files in this item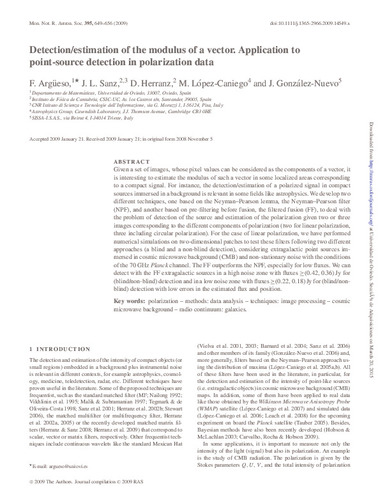 Compartir
Estadísticas de uso
Metadata