Thermoelectric Characterization Platform for Electrochemically Deposited Materials
Citación:
Advanced Electronic Materials, 6(4), p. 1901288- (2020); doi:10.1002/aelm.201901288
Patrocinado por:
Financial support from the European Union (EU) and the Free State of Saxony through the European Regional Development Fund (ERDF) (SAB GroTEGx, grant no. 100245375) are acknowledged. J.G. acknowledges the financial support from the Principality of Asturias and European Union under the PCTI/FEDER program "Retorno Talento" (project no. IDI/2018/000010). L.U.S. acknowledges the funding of the Deutsche Forschungsgesellschaft (project no. NI 616/22-1).
Id. Proyecto:
FEDER/100245375
IDI/2018/000010
Files in this item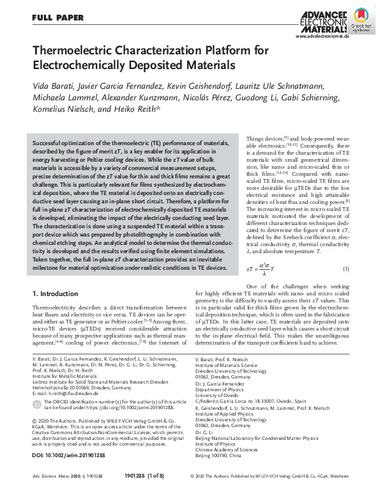 Compartir
Estadísticas de uso
Metadata