It's all about culture! Institutional context and ownership concentration across Europe
Citación:
European Management Journal (2021); doi:10.1016/j.emj.2021.06.001
Patrocinado por:
The authors gratefully acknowledge the funding received from the Project ECO 2015-69058-R from the Spanish Ministry of Economy and Competitiveness. They also acknowledge funding from the Ministry of Economy, Industry and Competitiveness (PID2019-105140RB-I00) and the project RTI2018-097447-B-I00 of the Ministry of Science, Innovation and Universities (Spain).
Id. Proyecto:
MINECO/ECO2015-69058-R
MINECO/PID2019-105140RB-I00
MICIU/RTI2018-097447-B-I00
Files in this item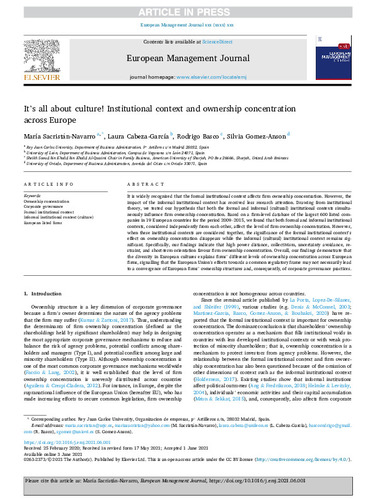 Compartir
Estadísticas de uso
Metadata