Automatic synchronization of RDF graphs representing ontologies and wikibase instances
Description:
Wikidata Workshop (1st. 2020. Virtual Conference)
Patrocinado por:
The HERCULES Semantic University Research Data Project is backed by the Ministry of Economy, Industry and Competitiveness with a budget of 5.462.600,00 euros with an 80% of cofinancing from the 2014-2020 ERDF Program. This work has been partially funded by the Spanish Ministry of Economy and Competitiveness (Society challenges: TIN2017-88877-R).
Id. Proyecto:
MINECO/FEDER
MINECO/TIN2017-88877-R
Files in this item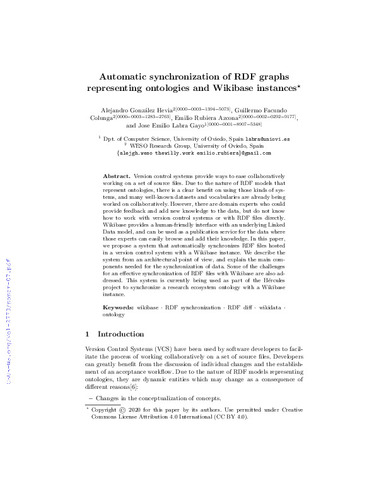 Compartir
Estadísticas de uso
Metadata