Unravelling the complex habitat use of the white mullet, Mugilcurema, in several coastal environments from NeotropicalPacific and Atlantic waters
Citación:
Aquatic Conservation: Marine and Freshwater Ecosystems (2021); doi:10.1002/aqc.3486
Patrocinado por:
This study was supported by Agencia Nacional de Promoción Científica y Tecnológica (Project PICT 2015-1823), Universidad de Buenos Aires (grant number UBACyT 20020150100052BA),Programa Becar (Ministerio de Educación, Argentina), Universidad Autónoma Metropolitana-Iztapalapa and Secretaría de Educación Pública-Consejo Nacional de Ciencia y Tecnología (grant no. Ciencia Básica/2011-01-165569), Government of Principality of Asturias pain (project IDI/2018/000186 – Fondos Feder), Scientific-Technical Services (SCTs) of Oviedo University, Brazilian National Council forScientific and Technological Development – CNPq (N.N.F., grantno. 311785/2018-2), and the State Funding Agency of AlagoasFAPEAL (grant no. 60030 0020401/2017).
Files in this item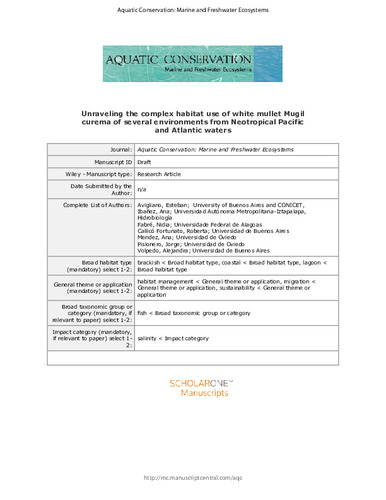 Compartir
Estadísticas de uso
Metadata