Local Structure of Supported Keggin and Wells-Dawson Heteropolyacids and Its Influence on the Catalytic Activity
Citación:
Journal of Physical Chemistry C, 123(32), p. 19513-19527 (2019); doi:10.1021/acs.jpcc.9b03659
Patrocinado por:
I.K. acknowledges the financial support from Spanish MINECO (MAT2016-78155-C2-1-R), Gobierno del Principado de Asturias (GRUPIN-ID2018-170), and Ministry of Education and Science of the Russian Federation (grant No.4.9722.2017/8.9). L.F.L. is grateful to progetto di Ricerca ARS01_00637 Energie per l′Ambiente-TARANTO (PNR 2015-2020) for financial support. The authors acknowledge The European Synchrotron (The ESRF), MINECO, and CSIC for the provision of measurements using the BM25-SpLine beamline. They also thank the BM25 SpLine staff for the technical support beyond their duties.
Id. Proyecto:
MINECO/MAT2016-78155-C2-1-R
GRUPIN-ID2018-170
Files in this item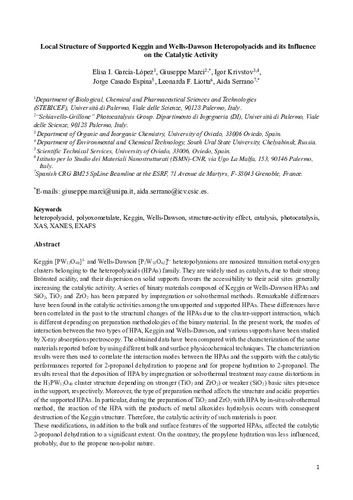 Compartir
Estadísticas de uso
Metadata