Unraveling the role of supramolecular additives in a proline- catalyzed reaction
Citación:
European Journal of Organic Chemistry, 1, p. 188-198 (2019); doi:0.1002/ejoc.201801509
Patrocinado por:
We thank MICINN (CTQ2016-76829-R AEI/FEDER, UE, and MAT2016-78155-C2-1-R) for financial support. S. G-G. and R. M-M. acknowledge ERDP funding. C. C. expresses her gratitude to MICINN for the award of a "Ramón y Cajal" contract (RYC-2014-16021). We thank Servicios Científico Técnicos, Universidad de Oviedo, for allocating measuring time on the NMR spectrometers. The authors gratefully acknowledge Prof Eduardo Rubio for his useful guidance towards the preparation of the manuscript.
Id. Proyecto:
MICINN/CTQ2016-76829-R
MICINN/MAT2016-78155-C2-1-R
Ramón y Cajal/RYC-2014-16021
Files in this item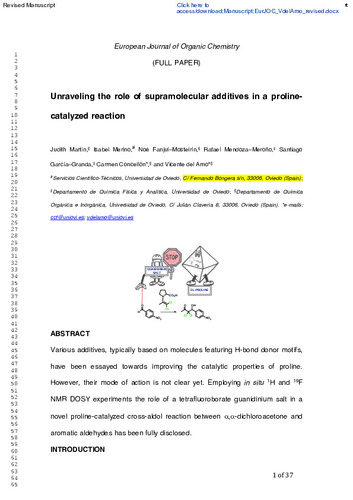 Compartir
Estadísticas de uso
Metadata