Highest weight generating functions for hyperKähler T ⋆(G/H) spaces
Citación:
Journal of High Energy Physics, 2016(10), p. 21- (2016); doi:10.1007/JHEP10(2016)021
Descripción física:
p. 21-
Patrocinado por:
A. H. is supported by STFC Consolidated Grant ST/J0003533/1, and EPSRC Programme Grant EP/K034456/1. S. R. is supported by by STFC Grant ST/J000469/1, String Theory, Gauge Theory, and Duality. D. R-G. is partly supported by the spanish grant MINECO-13-FPA2012-35043-C02-02, the Ramon y Cajal grant RYC-2011-07593 as well as the EU CIG grant UE-14-GT5LD2013-618459. A. H. would like to thank Bo Feng and Rijun Huang for their very kind hospitality at the university of Zhejiang in Hangzhou where the final stages of this paper were completed. D. R-G. would like to greatly acknowledge the hospitality of the Center For String Theory at Queen Mary where this work was initiated. The authors would like to thank G.Ferlito, Y.Hui-He, V.Jejjala, R.Kalveks and M.Sperling for useful comments and discussions which led to the present paper.
Files in this item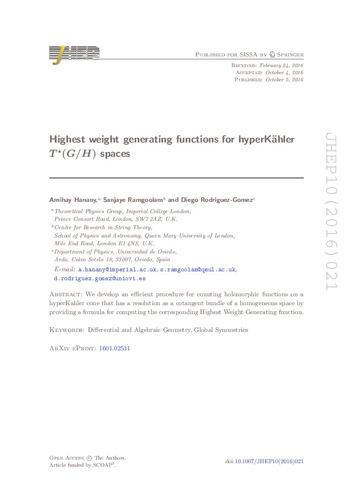 Compartir
Estadísticas de uso
Metadata