Unveiling the Hard Anodization Regime of Aluminum: Insight into Nanopores Self-Organization and Growth Mechanism
Citación:
ACS Applied Materials and Interfaces, 7(51), p. 28682-28692 (2015); doi:10.1021/acsami.5b10712
Patrocinado por:
Financial support under Spanish MINECO research Projects MAT2013-48054-C2-2-R and MAT2013-47231-C2-1-P, and Consejeria de Economía y Empleo from Principality of Asturias ́ and FICyT under Project No. GIC-FC-15-GRUPIN14-085 is acknowledged. V.V. thanks DAAD (PKZ A/09/95123) and University of Oviedo for the respective internship grants. J.G. thanks FICYT for his "Severo Ochoa" fellowship (BP10-035). Scientific support from the University of Oviedo SCT's is also gratefully recognized.
Files in this item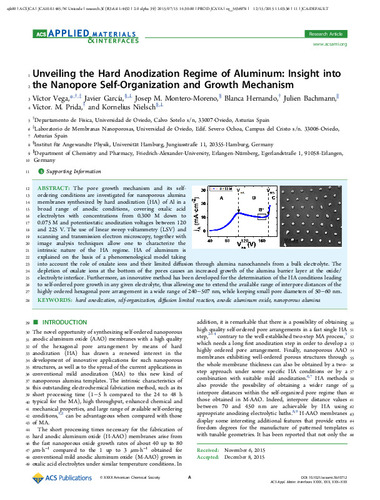 Métricas
Compartir
Estadísticas de uso
Metadata